Outdoor Furniture Retractable Stool Chairs Portable
You've been standing or walking around for a long time, and your shoes aren't helping. Your back aches, your legs hurt, and your feet are killing you: you just want to sit down for a few minutes – but there isn't a chair in sight. Sitting on the ground, if you're even able to, will get clothes dirty and make it difficult to get back up. so what can you do?
The answer is simple, you need a Simple Stool chair Portable!
💪MAXIMUM LOAD CAPACITY OF THE WHOLE NETWORK💪
It may be possible to make a similar-looking product out of poor-quality recycled materials, but you can't be fooled by the load-bearing capacity. To achieve the maximum load of 573 pounds across the whole network, of course, we have to rely on our patented structural design and particularly high-performance new materials.
💪EXCELLENT STRUCTURE💪
This small folding camping bench weighs only 2.2 pounds, but it can hold up to 550 lbs. The newly designed fish-scale structure and modified industrial nylon PA material enable the collapsible and retractable stool to have significant strength and stiffness compared to plastic material. An upgraded version of the portable retractable stool can be tilted.
💪Safe & Steady 💪
With high-strength heavy-duty eco-friendly Nylon PA6 material, the retractable folding stool has a strong bearing capacity and it can hold up to 573lbs/260kg, which will meet your needs effortless. Due to great technology and design, the durable telescopic stool has 110 tight connecting clasps and nonslip bottom, so you can use it safely.
💪Easy Open and Fast Close💪
Here are two buckles on the top and bottom of the portable telescoping stool. You can also hold the two buckles to stretch them and turn them clockwise / counterclockwise, making them easy to open and close. The anti-slip bottom design also adds to its safety.
💪Adjustable height💪
The telescoping stool adjustment range: 2.5inch – 17.7inch, you can adjust the height according to your needs, this adjustability makes it suitable for adults and children. The telescoping stool is a great gift for anyone looking for a portable stool and a telescoping stool.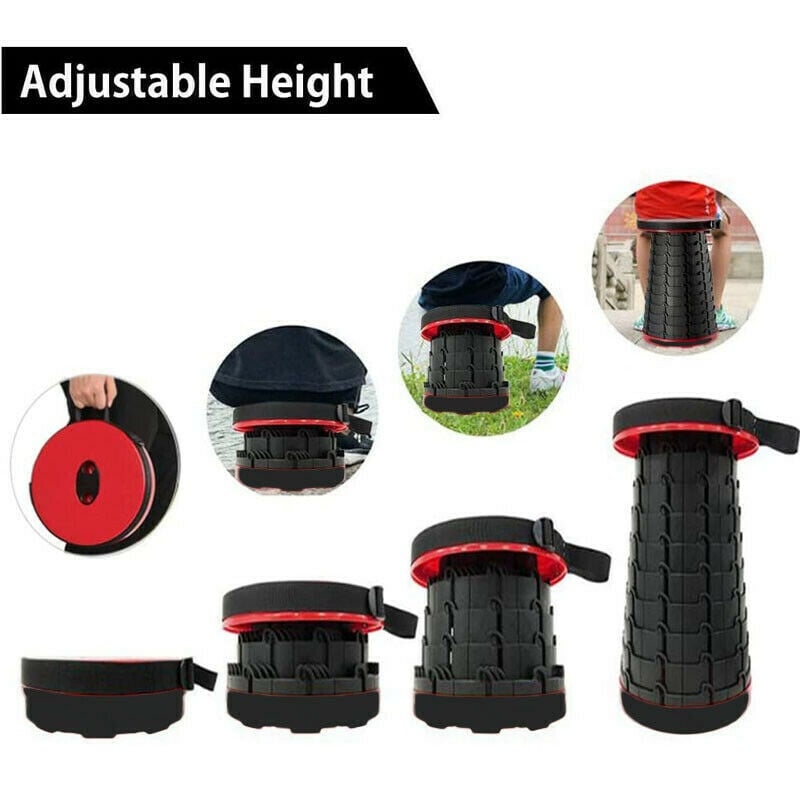 💪Portable and lightweight💪
The pack size is only 25cm in diameter ,With the perfect structure of the patented design and the exquisite materials, we also got the lightest weight of the entire platform at 1.94 pounds. This retractable stool is portable, lightweight, small, and compact to place into luggage or storage. The adjustable strap makes the chair easy to carry in your hand or hanging on your shoulder. Ideal chair for everywhere you go and anytime you want to sit down
💪STYLISH BACKPACK💪
Maybe you are queuing up to buy the latest apple, or waiting for the store to open during the discount season, or maybe you're at an outdoor music festival, and it's a lot easier to take a stool with you,  we've got a stylish black bag for you to hide this little guy in.
💪RECOMMENDED BY SOCIAL MEDIA AND CELEBRITIES💪
The latest and greatest social media sensation, perfect for bedroom, bathroom, kitchen, office and camping, fishing, hunting, hiking, BBQ, picnic, queuing, gardening, etc.outdoor&indoor events.

SPECIFICATIONS:
Material: 

ABS plastic

Specific Use: 

Beach Chair

General Use: 

Outdoor Furniture

Folded: 

Yes

Size: 

25*25*6cm

Seat dimensions: 

10.2″(26 cm) diameter

Strap length: 

43″(110 cm)

Material: Black, Red, Blue one is made of PP material,Yellow one is made of Nylon and ABS.

Package Includes: 

1 x Foldable Chair
HOW TO USE?
Hold the top and bottom with both hands.

Stretch to the desired height.

Rotate clockwise to fix.

Complete the installation.